data Centric Find + Fix Approach
GIS Based

Level + Visual Sensors

Overflow Detection

I&I Identification
Flow monitoring conducted by the City of Mount Vernon, Missouri in 2014 identified Basin 4.1 as the leakiest across its entire collection system. The City input previous CCTV, acoustic sounding, smoke testing, and inspection data into an advanced GIS data model, which determined that Site 2 in the northeast portion of Basin 4.1 had the highest potential for infiltration and inflow, backups and overflows due to pipe maintenance and structural issues. Because of a limited rehabilitation budget, work in the 15,000 LF would have to be staggered over a few years.
TREKK installed three PreView sensors before a 2016 rain event to verify system conditions and issues in Basin 4.1. Post-rainfall results identified significant flow and surcharging increases at Site 2. Wet weather checks later revealed sewage overflowing out of the ground from a fracture and void created in the VCP pipe near Site 2. Both sanitary sewer overflow locations were previously unknown.
The City deployed cleaning, CCTV and point repairs within days. CIPP lining will be completed in 2017. PreView sensors will be re-installed at the same locations to verify system conditions post-rehabilitation.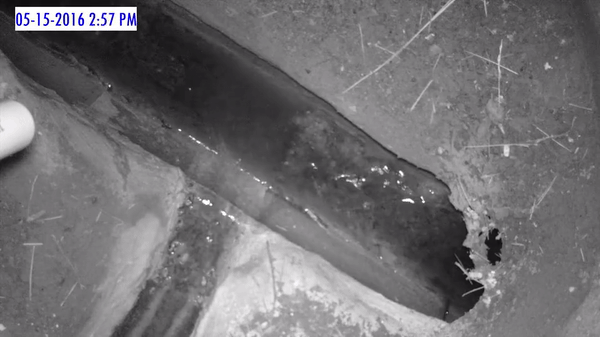 Surcharge: 25" in 10" Pipe
Rainfall: 0.25 Inches/Hour